Family safety is the highest priority for us all. In light of the Coronavirus pandemic, having a second passport and the option of residing in the safest country possible has become a smarter investment than ever before.
A short time ago, we could not have foreseen the Covid-19 virus and the severe and sustained spread across Asia and Europe. With nations imposing strict travel restrictions, closing borders and airlines cancelling flights on a wide scale, these are unprecedented times. As the experiences of lockdown and self-isolation evolve, the safety of having the option of leaving immediately at the outset of a new crisis to a safer location has become more lucrative than ever – it is second citizenship that unlocks this freedom to act.
Second citizenship is more than a lifestyle. It is the guarantee of being able to make choices to protect the safety of yourself and your family. Having independence from political, economic, social and environmental factors in your home country allows you to have options available to you whenever you might need them.
As Caribbean and Vanuatu passport holders escape the pandemic to safer climes with their families, now it is high time to protect yours. With fast track remote passport application processing, this option could also be yours in just one month.
Second Passport – Lifelong Insurance From Crises
Client case studies reflecting their access to instant manoeuvrability during the Covid-19 outbreak:
Case 1
Client A is a Chinese resident, living close to the virus epicentre and thus exposed to a high risk of the virus. As soon as the scale of the crises became clear, he applied for Caribbean citizenship to be able to move his family to safety. Passports were received via post, and the client and his family relocated to a secure and virus-free country where they will remain until it is safe to return home. Having seen first-hand the global spread of the virus, and the potential for more to occur in the future, it was clear that having a 2nd passport was a valuable contingency in times of chaos.
Case 2
Client B is an owner of a steel and mining company residing in the Russian far East, close to the Chinese border. He chose to apply for a fast track Vanuatu citizenship as the pandemic began to peak in Wuhan between 23rd January – 2nd February 2020. Within one month he was able to relocate with his family to Europe, and from there to the Caribbean for the duration of the crisis.With 2nd passport he also has the right to reside in Vanuatu, which remains Covid-19 free. He can stay there for an unlimited time with the option of returning and relocating at any point in the future.
How to Keep Your Family Safe?
Contact us now to begin your Caribbean or Vanuatu citizenship application today. Passports can be acquired remotely within just 1 month.
How Does Fast-Track Remote Application Processing Work?
Simply send us electronic copies of the required documents. You receive your passports by recorded post (DHL) in just 1 month.
Obtaining second citizenship guarantees the safety of your family. Once your passports arrive, you may relocate immediately until the situation has been resolved.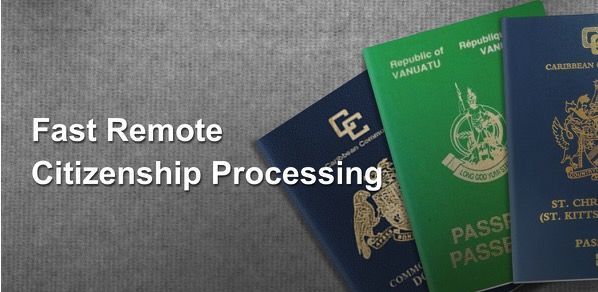 For the fastest way to secure this insurance, Vanuatu, Dominica and St Kills and Nevis are ideal solutions. Passport processing takes 1-2 months, giving you increased global mobility and life-long security. The Dominica and St Kitts programs offer a property investment route, with the option to generate an extra income stream and release your assets in around 5 years.
Astons is a leading global immigration advisory firm with offices in London, Beijing, Moscow, Dubai and Limassol (Republic of Cyprus) and offers residency & citizenship investment solutions worldwide including UK, Turkey, Vanuatu, EU & the Caribbean.
For further information or to discuss your personal circumstances in a private consultation, please contact Astons at [email protected] or call +44 207 292 2977