Discover our Top 5 Property Offers in Istanbul, with prices even lower than developers! These include villas and apartments in the most prestigious Istanbul areas, eligible for the government-approved citizenship programme, and presenting a profitable investment for rental income and future resale.
Would you like to receive Astons' exclusive property offers and citizenship news first hand? Join our Telegram channel today, with a unique opportunity to enter our Christmas contest, to win a free Turkey Property Viewing Tour in early 2021! Don't miss out on this incredible opportunity to visit Turkey, consult with real estate and citizenship experts, and see the very best properties in person, with all expenses paid! Telegram offers secure messaging and is widely available to download from the Apple app store or the Telegram website.
New Residential Development in Maslak, Central Istanbul
Beds: 1, 2, 3, 4
From $184,000
There are one, two, three and four-bedroom apartments on offer, all featuring ample living space with designer interiors throughout. There is an opportunity to purchase 3+ and 4+ bedroom apartments with additional utility rooms that can be used for many purposes, such as a cellar, laundry, or study. Residential facilities include a large indoor swimming pool, sauna, luxury spa, fully equipped gym, landscaped gardens, and a playground for children, lobby and reception services, onsite shops and restaurants, hotel facilities as well as a professional rental management programme.
High-End Residential Complex in Basin Express, Istanbul
Beds: 1, 2, 3
From $159,300
This new development is in a prime Istanbul location, set in the Basin Express, between TEM and E-5 highways, next to the metro station. There are one, two and three-bedroom spacious apartments on offer with a rental guarantee set at 8% for three years. Social facilities include 24/7 security, camera security, outdoor parking, indoor parking, fitness centre, gym, sauna, social facilities area, basketball court, volleyball court, children's playground and ample green space. There is also a private landscaped garden and expansive walking areas.
Luxurious Residential Complex in Beykoz, Istanbul
Beds: 1, 2, 3
From $240,790
One of the most luxurious projects in Beykoz, in a prime location overlooking one of Istanbul's most prized forests, offering a unique Bosphorus view, and excellent social amenities. There are one, two and three-bedroom options available, with sizes ranging between 85.3 to 216.92m2. The spacious homes offer large balconies and meticulously designed master plans with residents' facilities, including an outdoor swimming pool, sauna, spa, steam room, fitness centre, walking track, and kids playground. The site is also protected 24-hours with security surveillance.
Seaside Residential Complex in Zeytinburnu, Istanbul
Beds: 1, 2, 3, 4, 5
From $279,460
An award-winning seaside project built upon the Zeytinburnu coast, one of the most desired locations in Istanbul. These are high-end and luxurious one, two, three, four and five-bedroom apartments featuring panoramic terraces to enjoy the Bosphorus and Blue Tunnel, as well as garden duplexes with ample green space. There is a wide range of social facilities including swimming pools, walking tracks, a tennis court, football and basketball field, fitness centre, spa, steam room, Turkish bath, sauna and massage rooms.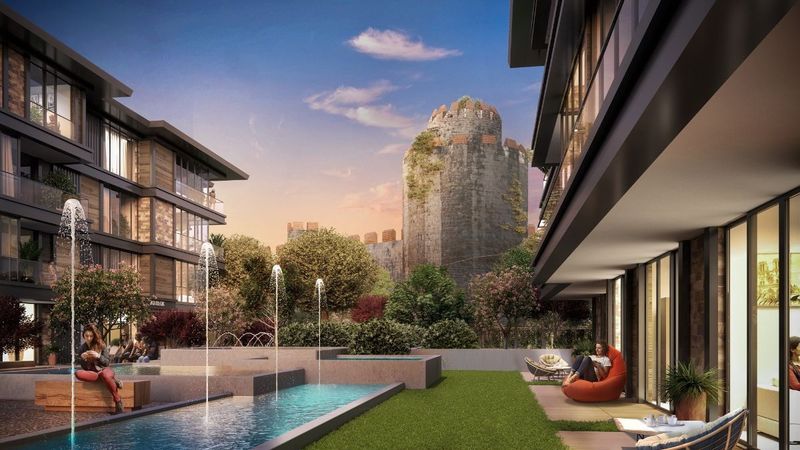 Beds: 1, 2, 3, 4
From $324,170
This highly anticipated new project is located in Yedikule, Istanbul, on 40,000m2 of fields comprising 70% landscaped areas. In every aspect, it is one of the most exclusive projects ever launched in Istanbul. The complex offers stylish one, two, three and four-bedroom apartments with sizes from 72m2 up to 319.26m2 with facilities including an exceptional quality fitness centre, indoor swimming pool, sauna, spa, Turkish Hammam, football pitch, basketball court, car parking, concierge, 24-hour security and much more.
Astons is a leading global property and immigration advisory firm with offices in London, Beijing, Moscow, Dubai and Limassol (Republic of Cyprus) and offers residency & citizenship investment solutions worldwide including the UK, Turkey, Vanuatu, the EU and the Caribbean. 
For further information or to discuss your personal circumstances in a private consultation, please contact Astons at [email protected] or call +44 207 292 2977.