Bloomberg recently called a second passport "the newest asset of a mega-rich U.S. citizen", along with a Gulfstream jet or a Manhattan penthouse.
Given the global crisis and entry restrictions imposed by many countries, US citizens have found themselves in a peculiar position – probably, for the first time in history. Holding one of the world's most powerful passports but not being allowed to travel freely, affluent individuals are looking to maintain their quality of life and obtain a second passport or residence permit that would provide greater flexibility.
There are numerous reasons that someone might look to gain citizenship through investment. However, the ability to travel to over 180 countries without requiring a visa is undoubtedly up there as one of the most attractive.
So, what are the top choices for US nationals in terms of alternative citizenship and residency?
Vanuatu – the fastest citizenship by investment program
The quickest route to citizenship is offered by the island nation of Vanuatu in the South Pacific Ocean. The citizenship of Vanuatu can be processed in just 30 days. Vanuatu's minimum investment of $130,000 is one of the lowest among Citizenship by Investment programmes worldwide.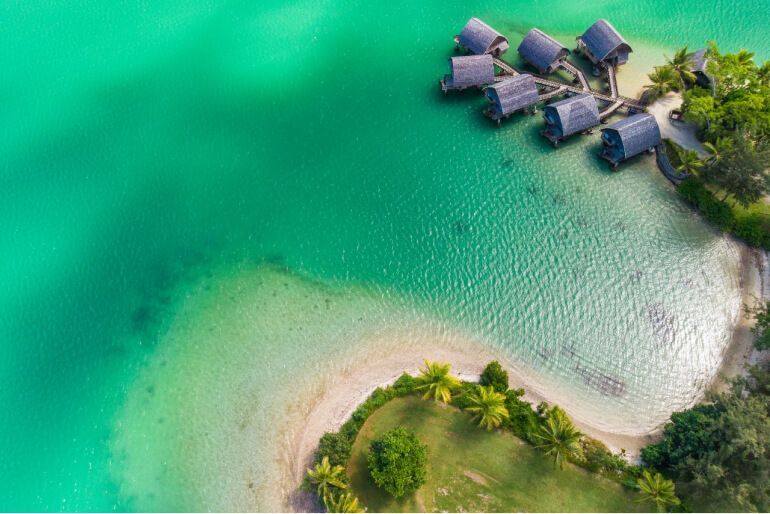 Port Vila, Vanuatu. Source: Shutterstock
Vanuatu's fast track offering allows investors and their families to secure citizenship in a month, 100% remotely, with no physical presence requirements.
This citizenship is a smart choice for US investors willing to boost their mobility during the pandemic. A Vanuatuan passport unlocks visa-free access to 129 countries, including the EU, the UK, Singapore and Hong Kong.
Vanuatuan nationals also benefit from easy visa processing to fellow Commonwealth countries, such as Australia, Canada and New Zealand. Vanuatuan passport holders can stay up to 90 days within any 180-day period in the Schengen country and up to six months per year in the UK.
"During the current pandemic, we've seen a significant uplift in the number of individuals opting to invest in island nations such as Vanuatu and other locations across the Caribbean, in particular. Of course, these nations provide a strong pull in terms of the lifestyle and landscape, but they also offer a much quicker route to citizenship at a much lower cost," says Armand Tannous.
Speaking of the Caribbean region, St Kitts and Nevis has topped the rankings of Citizenship by Investment programmes. What are the benefits of a St Kitts and Nevis passport?
St Kitts and Nevis – a powerful, yet cost-effective passport
Launched back in 1984, the St. Kitts and Nevis programme has gained recognition among global investors. This COVID-safe Caribbean haven allows you to obtain a passport in just 2–3 months or in 45–60 days if you take the fast track. With an average time of 53 days to gain citizenship, it's the second quickest option after Vanuatu.
Charlestown, Nevis: a golf course at the foot of the Nevis Peak volcano. Source: Shutterstock.
To qualify for citizenship, US investors can either make a government donation of $150,000 or invest in property starting from $200,000. Aside from other perks, St. Kitts and Nevis is also a favourable business environment for Americans as its currency is pegged to the US Dollar.
The passport of St Kitts and Nevis is great value for money as it enables its holders to visit 152 countries without a visa, including the EU and the UK.
Meeting family inventors halfway, the government of Saint Kitts and Nevis is now offering a reduced donation of $150,000 for a family of four – the same rate as for a single candidate. This is a time-limited offer. Applications will be accepted until 15 January 2021.
Greece – the cheapest residency option in the EU you can obtain by investment
Greece has grown in popularity among HNWIs, with a minimum property investment of just under $300,000 (€250,000) – the lowest entry barrier to the EU so far. Although it's still just an EU residency option rather than full citizenship, purchasing real estate anywhere on the mainland or within the Greek islands is a high-yield option on the commercial or residential route.
Villa Isla in Mykonos, Greece, approx.
Greece offers a streamlined residency scheme with no minimum stay requirement. The five-year residence permit provided in exchange of investment can be renewed every five years. However, the investor should still own their property at the time of renewal.
Greece residency unlocks visa-free access to the 26 EU states. The residence permit entitles the investor to free healthcare and provides access to many prestigious universities at lower EU tuition fees.
A home in the Mediterranean may be just the right choice for US investment migrants in these difficult times, being a family residence and home office with quick access to the major European hubs.
Cyprus – the EU tax paradise, and one of the most popular citizenship by investment programs
While the country's Citizenship by Investment program has been suspended starting November, Cyprus is still one of the most popular destinations for residency and property purchase.
Villa in the yacht marina, Limassol, Cyprus, approx.
US investors willing to take the Cypriot route will obtain Cypriot residency in just two months with an investment of approx. $356,000 (€300,000) in real estate. The property should be a first-time sale and may comprise up to two housing units which must be purchased from the same developer.
Americans will benefit from the country's taxation regime. There is no worldwide dividends, interest and income tax, no tax on gains and no inheritance tax.
Luxury Cypriot real estate brings along tangible ROIs if rented out. The property can also become a family home in the Mediterranean. Investors can add to the application their spouse, dependent children up to 25 years old, parents and parents in law.
Once the residence permit has been granted, applicants need to visit Cyprus within one year to submit biometrics data and should not be absent for more than two years. Cypriot citizenship can be secured in five years provided all the requirements are met.
Turkey – lucrative investment options, low prices and high quality of life
Turkey offers a fast track to a second citizenship. US investors can obtain a Turkish passport in just two months through property purchase at just $250,000. Turkey draws foreign investment in real estate, offering one of the most affordable options globally and a wide range of properties from studio apartments to luxurious villas.
Stone mansion in Bodrum, Turkey, approx.
With the plummeting rate of Turkish Lira, Turkey may provide a low-cost, yet high-quality living environment for US nationals. With over 700,000 expats and 60,000 international companies the country allows for easy business connections.
American HNWIs will appreciate a straightforward application process without any obligation to declare the investor's assets or income generated in other countries, and with no physical presence required.
Turkey unlocks visa-free access to 110 countries worldwide, including Singapore, Japan, Qatar and South Korea. The country allows for dual citizenship and the citizenship is transferable to descendants.
The top citizenship by investment programs – conclusion
Before the crisis, Americans usually obtained a second citizenship through origin or marriage. In 2020, everything has changed. US nationals' demand for investment citizenship and residency programmes has soared by the overwhelming 700%. The investment migration market has a lot to offer to American HNWIs based on their budget, family situation, goals and personal tastes. The trend has burgeoned in 2020, and there's no doubt it will further blossom in 2021.
Originally published in James Edition on 10th December.